Local's budget friendly guide to the best things to do in Budapest with kids.
Budapest is an amazing and diverse city in central Europe but it's often under-rated. Restaurants with high-chair or kid's menu, sights with no entrance fee for children, or the vibe you get when you walk with a stroller. Every family has its own taste what "family/kid-friendliness" means. For us it's a place what we can show to our daughter and enjoy the quality time we can spend together.
I live here with my family and since we welcomed our daughter back in 2020, we have visited 50+ places just in Budapest. Let me show you around and as your Local's budget and family-friendly guide to Budapest with kids which as the title suggests won't break the bank! I also have a few insider tips up in my sleeves to share with you!
No matter if you arrive with your little cocoon, toddler or young child(ren), the possibilities are almost endless. I highly recommend using public transport. You can get a single ticket as cheap as 0,8 EUR for adults (in comparison 1,8 EUR in Paris, 2,3 EUR in Barcelona and 1,2 EUR in Prague), and it's free under 14 years of age, but also you can choose from a colorful palette of options, including the Budapest city card with which you can enter to a large variety of venues for free. Besides its cheap price, public transport is also a great way to connect with locals & see how they live in a given place. Most of the vehicles (bus, metro, new trams) generally in the city center are well equipped with reserved stroller places, priority seats, elevators - dedicated for families with stroller traffic.
Insider tip:
One of Budapest's iconic view is definitely the panorama along the river Danube. Use tram '2' on Pest side, or tram '41' on Buda side which will serve you as a perfect sightseeing route spotting the finest buildings along the river Danube. Guaranteed that little children will love the tram ride.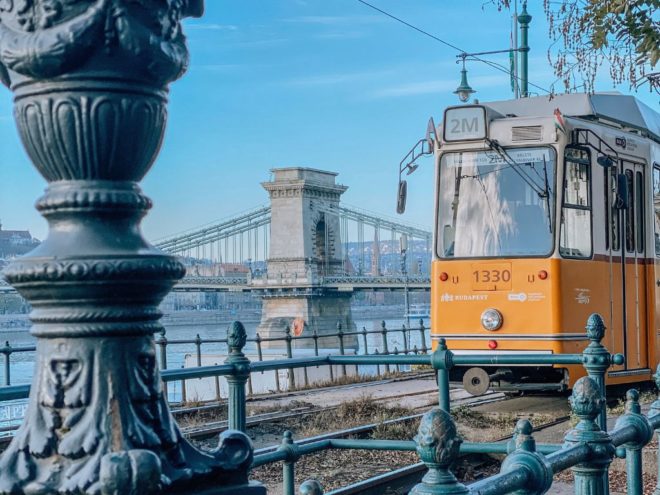 1. 2:1 treasure hunt & sightseeing
What makes a sightseeing tour fun? Especially when kids are around. Conventional tour buses are okay, but I rather try to find alternative ways to explore a city, interesting enough to the young little ones. As a Local's budget and family-friendly guide to Budapest with Kids I would definitely recommend checking out the Kolodko's mini sculptures. You can find 30+ mini metal sculptures (15-30 cm) in various spots in Budapest. Most of them are very cute and lovable for children. With hunting them down you get an amazing sightseeing tour of the city center on foot as well. You can read about a whole itinerary in this blog article.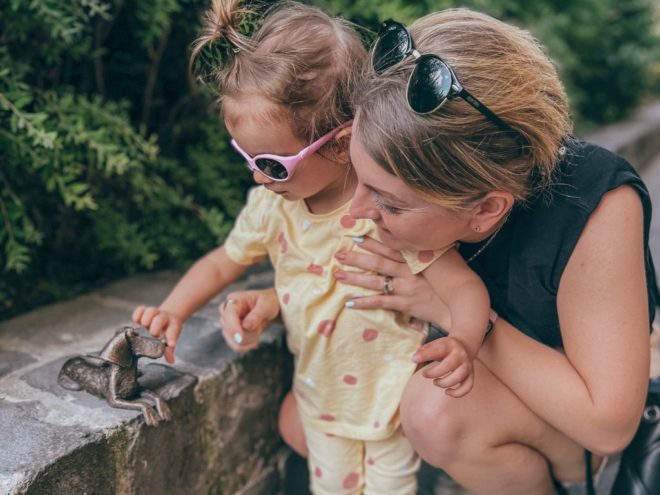 2. Little or no entry fee for child(ren)
In general sightseeing with your young little one is really cheap in Budapest. With our baby/toddler (now she's over 2) we have visited quite a few sites - touristic (eg. St Stephen Basilica) and less popular ones too (eg. Szemlő cave) – and only once we had to pay a so-called "registration fee" for her. Most of the time you don't have to pay anything for your child's entry. It varies until when it is free (sometimes up until 6 years of age).
Insider tip:
If you are lucky with timing you can benefit from the initiative where certain museums (like the Museum of Science, Technology and Transport, the Museum of Fine Arts or the Museum of Natural Sciences), exhibitions offer free days to enter. The list varies from year to year so you need to check it beforehand, but it's definitely a great option to cut your budget just a bit tighter while the children are entertained in an educational way.
You either pick a topic/theme and visit different places – like searching for these Kolodko mini sculptures -, or you pick a destination and discover as many things there as possible to explore Budapest. I would definitely recommend you going to the Liget for an entire day. From babies to teens every age group's interest is covered. What you can find here?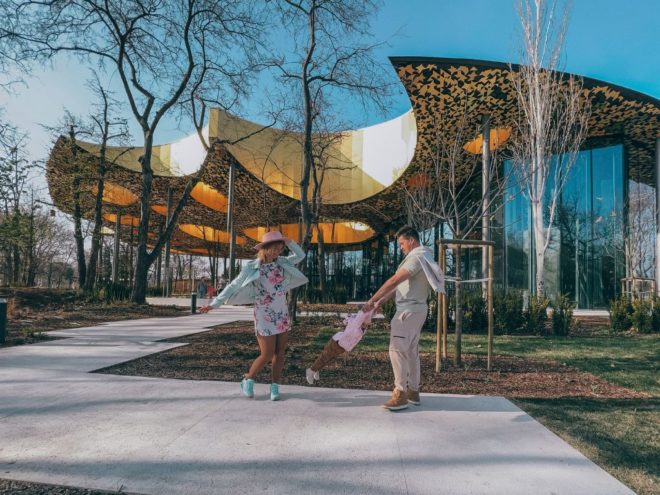 Insider tip:
If you can't dedicate your whole day in an area, or just simply need a quick playground stop to calm your child(ren)'s energy I highly recommend using the PlaygroundBuddy app to know where you can find playgrounds near you. It works in world-wide, so I share an extra useful app with you! 🙂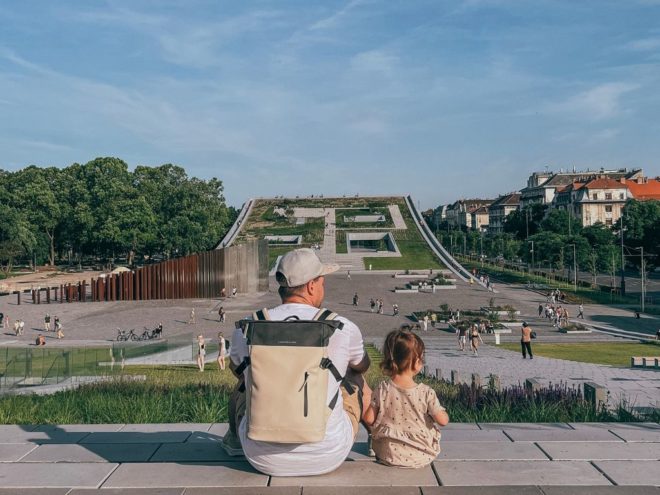 4. Special sightseeing options
Pamper the kids' hunger for excitement (and also yours) with unique options while you discover Budapest city center.
A budget-friendly local guide to the best things to do in Budapest with kids wouldn't be complete without recommending places know by locals.
For visitors who can only stay 2 nights probably not the most desirable option but for those who can make it longer, visit the less popular places too. I give you some alternatives:
great view over the city – Garden of Philosophers
huge park with picnic and sport/play options – Bikás park
green recreational spot with playgrounds and restaurants – Kopaszi dam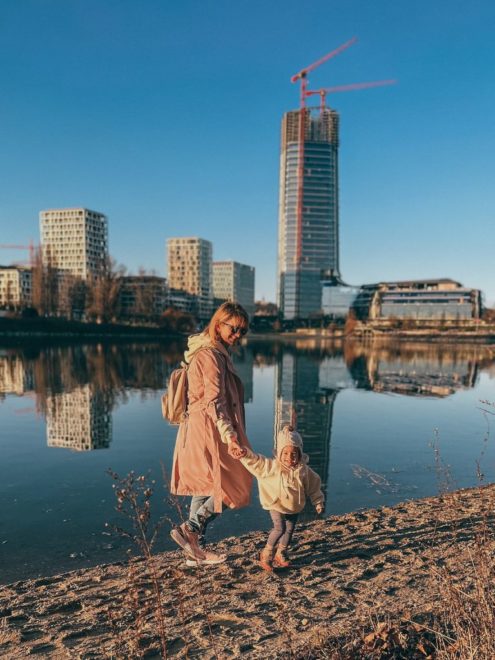 III. BAD WEATHER COMPATIBLE OPTIONS
Unlike many European cities, Budapest HAS shopping malls in the city center. Quite a few to be honest. It's up to you if you like them or not but being on a family trip it can be handy to have bigger malls along the way – especially either for bad weathers or for grabbing some essential things. Not to mention that most of these shopping malls have their entertainment section as well (like indoor playgrounds or cinema).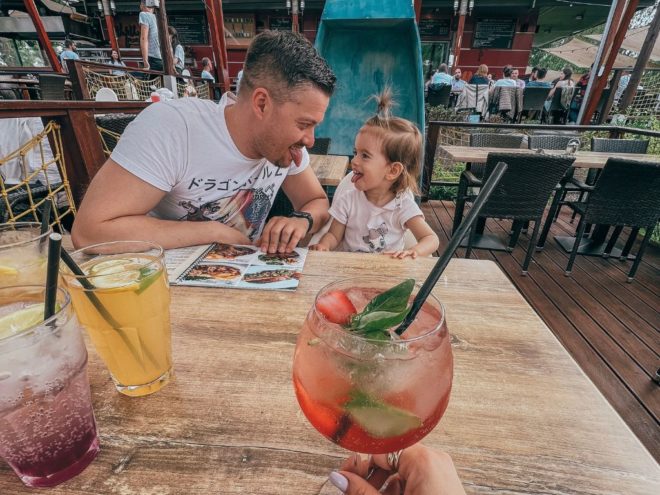 2. Indoor activities suitable for children over age 4*
When your child is big enough to express what they want, you can easily end up with a grumpy kid on the tour bus. Make the stay enjoyable for them but also for the parents. I help you out with some options which will save the day if children want some fun.
*Every family is different. Obviously, we won't take our daughter to places which we know for sure she won't enjoy however these rules are not carved in stones. We would also take her to CsoPa Science Center or ride the air balloon – if it was permitted. You need to evaluate which program would fit your & your family's interest. 🙂
I hope I could show you the kid-friendly face of Budapest and convince you to at least consider coming to Hungary with your family after reading my Local's budget and family-friendly guide to Budapest article. Us, who have been in 27 countries in Europe, we really do think that Budapest is a beautiful place offering countless options for families.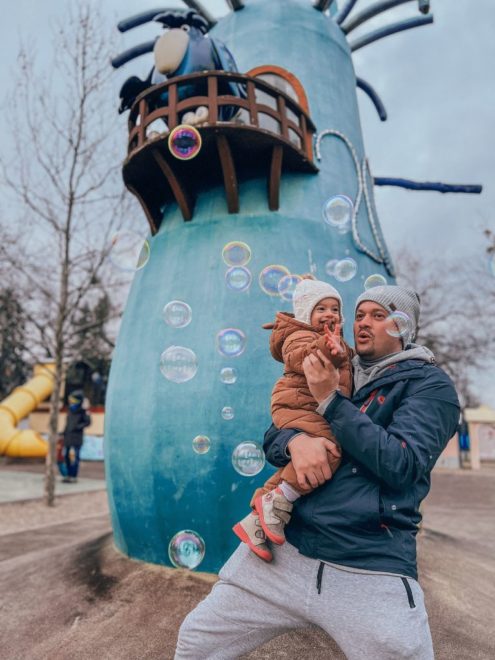 Finally, I share with you a few Instagram post as well int his topic:
A legjobb helyszínek a Parlament lefotózásához
Állatok inspirálta itiner Budapesten